Bio
Daniele Giovannoni was born in Rome August 20, 1966. After obtaining the Scientific high school degree  (and passed some exams in the Faculty' of Engineering), he belatedly decides to approach the drums and starts  studying  privately with Ettore Mancini. Later, he enrolled in the Faculty of Drums at the Universita' della Musica in Rome where he received his diploma, studying with some of the best Italian professionals such as M. Of Lazzaretti, C. Mastracci, F. Sferra, P. Iodice, G.P. Ascolese.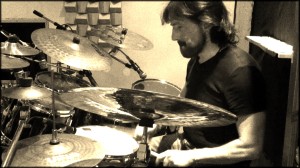 Studies:
Graduated from the University of Music in Rome, London Drumtech
          Winner of " the Best Student UM"
He studied with Maurizio Dei Lazzaretti, Derek Wilson, Ettore Mancini, Fabriezio Sferra, Pietro Iodice, Agostino Marangolo, Enrico Lucchini, Claudio Mastracci
He also studied harmony with Andrea Avena and Piano with Emilio Merone
He taught at Batteria Drum School di Roma, Roma Rock School, Accademia Nova.
He is collaborating with Westminster Univeristy Music Dep and SSR Stusios in London
Master Classes:
Gavin Harrison, Benny Greb, Vinnie Colaiuta, Dave Weckl, Steve Smith, Gary Chester, Kim Planfield, Paul Vertigo, Chuck Silverman, Lele Melotti, Keith Carlock e molti altri
He has played with:
Noemi, Daniele Silvestri, Karmamoi, Clèo, Hellena, RWAK, Julian Grimm, John McKenzie,Roberto Ciotti, Schola Cantorum, Karl Potter, Valerio Billeri, Gianni Ferretti, Zona d'Ombra, Possessione, Croma Nova, Classic Quartet, Alessandro Patti, Dino, Omnia Mundi, Graphico, Makay, Fabio d'Amore, Platters, DrumInside
Festivals:
London Calling Festival (UK), Portsmouth Festival (UK), Premio De Andre', Bologna Music Festival, Roll Day, Euro Showcase Festival ( NL ),  Jimi ( FR ), Working Progress Clinic Drummers Festival Batterika, Awop Festival, SuperSound Festival, Mei, Primo Maggio
TV:
BBC London, Domenica in, Buona Domenica, Primo Maggio, Rai Open, Telethon
Press:
Fare Musica, Buscadero, Percussioni, Ritmi, Rock Shock, Batteria, Drumset Mag
Collaborates with:
Drumset Mag, Drums Portal, Planet Drum
Endorser:
RV Drums, Ufip, Roll, Acustica